Download our free legal guides and checklists to help you with your legal matter.
Divorce is probably the most stressful and excruciating event a couple would be experiencing when their marriage breaks down. Emotions would range from anger, devastation, frustration, despair, guilt, sadness to relief and contentment during this process and it can hurt both parties physically, emotionally and financially.
Here's a checklist you will find helpful when preparing to go through the process.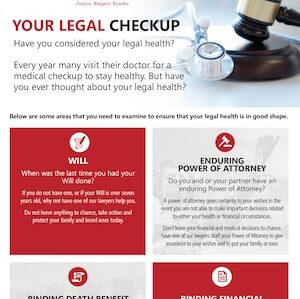 Have you considered your legal health? Every year many visit their doctor for a medical checkup to stay healthy. But have you ever thought about your legal health?
Check out these important areas that you need to examine to ensure that your legal health is in good shape.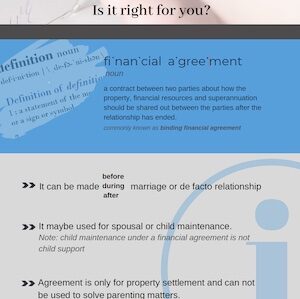 Financial Agreement: Is it right for you?
What is a financial agreement and why would you need to enter into a financial agreement?
Get the answers to these questions by downloading our financial brochure.